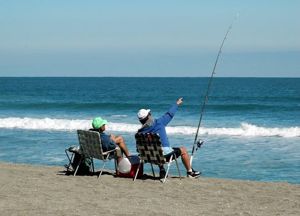 Bay fishing often produces different species compared to our surf beaches when it comes to saltwater fishing.
Bays also often play the role of fish nurseries. Where some species of fish head to spawn each year.
That's because a bay often offers protection from deeper waters.
They are often fed by rivers and streams that offer a veritable fish pantry to adults and juveniles.
Shallow, wide bays (like Port Phillip Bay) can get very rough during windy conditions. More so than smaller, deeper bays. So care must be taken to stay aware of prevailing and potential weather conditions.
---
Victorian Bay Fishing Recommendations