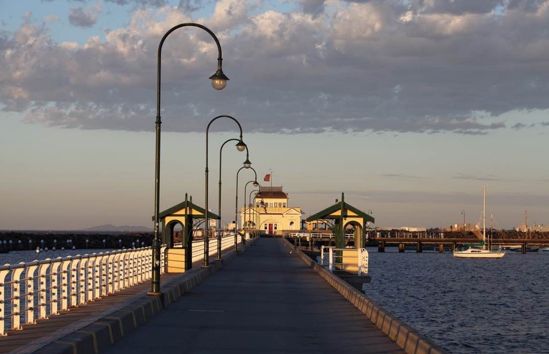 St Kilda Pier Fishing on a warm summer's night was how I started targetting flathead and pinkies as a teenager.
St Kilda Pier has seen some pretty major modifications in the decades since then.
It's still a major icon on Port Phillip Bay and is rich in history. Going back to 1853!
The addition of a rock wall and the harbour adjoining it significantly altered the longshore drift.
That's to say – the currents that deposit sand influence fish feeding opportunities.
It seems to have been a positive – particularly for fishing St Kilda Pier for flathead.
Rock Wall Addition – Like The Old St Kilda Pier, Only Better
However, fishing the rock wall offers all the advantages of the old pier.
Access to the open and relatively deeper waters.
If I was, to sum up, St Kilda Pier fishing in a single fish species – it'd be flathead.
I've caught numerous "lizards" off the old pier over the years.
While it's been many years since I've fished it, other fishos seem to be experiencing the same thing. Flathead!
Of course, there's plenty of bream and pinky snapper caught by folks too. As well as squid (calamari).
While not as fishing famous as, say, The Warmies, it's certainly played a major role in recreational fishing throughout the last century and a half.
Fishing St Kilda Pier Bait Choices
When fishing St Kilda Pier bait wise I always found frozen white bait (fish) fished whole on a running sinker or a paternoster to work well.
However, I've also used prawns effectively too.
Just make sure you use the bait or lure that matches the preferences of the target species you're aiming for.
Frozen bait makes you buy the freshest you can.
There's a local service station near the St Kilda boat ramp that usually sells excellent quality frozen bait due to its high turnover.
Stale bait doesn't work at St Kilda. Give yourself an edge and put in the effort to obtain premium bait here.
There's an exception to the "stale bait" issue with fishing St Kilda Pier – or any other. That's specially prepared bait.
I often prepare and preserve my own bait, flavours and scents added. Then refrigerate.
Done right I can keep any bait in A1 condition in the fridge for a full season.
St Kilda Pier Fishing Best Bait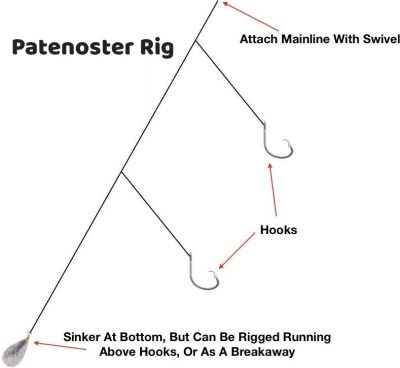 I recommend the following bait when at St Kilda Pier fishing.
Pilchards
Whitebait
Bluebait
Pippies
Mussels
Squid – Tentacles
Chicken – I use it with my own secret sauce recipe.
I've had success here fishing bloody chicken liver on a paternoster rig for pinkies. You'll need to use some elastic thread to keep the liver on as it's so soft.
For flathead, I've generally gone with a running sinker.
Usually, a pilchard or bluebait is cut to suit the hook size.
The running sinker can assist in setting the hook with a flathead while keeping the bait down on the bottom.
Soft plastics seem to be working great. That's judging by reports in the fishing forums and Youtube videos.
In my experience, it's hard to go past a soft plastic in a motor oil colour if targetting flathead almost anywhere in Port Phillip Bay.
Zman and Gulp are notable brands. With Zman being more durable.
Rods Reels & Best Time To Go St Kilda Pier Fishing
The best times to St Kilda Pier fishing are dawn and dusk.
I've found flathead bite better when the tide is starting to go out. While Pinkies and Snapper are better fished when there's some wave and current action happening.
The wind coming in from the West is good.
Having said that – I've caught flathead in the mid to late afternoon in late spring and early summer.
Just be prepared for slower bites.
As already noted. This is a busy pier. You might get away with a 10-foot or larger rod off of the rock wall.
But I'd stick to something in the Estuary spinning rod size range. Say no longer than 9 feet or less.
I always fish light here. So I keep the sinker down to just enough to keep the bait positioned.
Berley Brings Baitfish At St Kilda Pier
Given this can be a heavily fished area, due to its proximity to the city, I recommend the use of attractants on your baits.
If you're not using a proven pre-scented lure like Berkley Gulp then try using some Squidgy S Factor.
If you're using natural baits S-Factor works extremely well too.
Don't forget to burley well. Regular burley like breadcrumbs and tuna oil will bring the fish closer to where you are.
It's these things that always make a difference – no matter where you are fishing!
Ignore anybody telling you to stop using berley. There are a few odd older fishos out there that I've met. Usually first thing in the morning – before dawn. A couple of these guys have demanded, both here at St Kilda Pier and at Mordialloc Pier, that I not use berley.
As far as I can tell, they've already added berley to their area of the pier and don't want any competition.
So – smile nicely. Then bloody well ignore them.
While you rarely seem to see soft plastic fishos using berley I've found the very fact it brings in baitfish the best reason to use berley even with this style of fishing.
St Kilda Pier Fish Species
Fish Species
Quick Info
Snapper
Mugilidae sp
Much more prevalent during warmer months. This name applies to juvenile specimens of Snapper.
Bait: Bluebait, Chicken Breast, Flathead Fillets, Mullet Fillets, Mussels, Pilchards, Pipis, Prawns, Sandworms, Squid Hoods, Squid Tentacles, Whitebait, Whiting Fillets
Flathead
Platycephalus sp
But much more prevalent during warmer months..
Bait: Bluebait, Chicken Breast, Flathead Fillets, Mullet Fillets, Mussels, Pilchards, Pipis, Prawns, Sandworms, Squid Tentacles, Whitebait, Whiting Fillets
Australian Salmon
Arripis trutta
Common for schools to move through, chopping up the water before moving on. Can be common during cooler months.
Bait: Bluebait, Chicken Breast, Flathead Fillets, Mullet Fillets, Mussels, Pilchards, Pipis, Prawns, Sandworms, Squid Hoods, Squid Tentacles, Whitebait, Whiting Fillets
Whiting
Sp
Generic Name for a number of Whiting Species found in Australia.
Bait:
Mullet
Mugilidae sp
Can sometimes be the only game in town during cooler weather.
Bait: luebait, Chicken Breast, Earthworms, Mussels, Pilchards, Pipis, Prawns, Squid Tentacles
---
Kayak Fishing St Kilda Pier
Lincoln from Landfish TV gets into some flatties off St Kilda Pier
In recent times it's become common to see fishing kayaks within the rock wall area.
It's nicely protected and is a great way to get to the spots land-based fishos can't reach.
Accessing the water for your kayak can be hard when the beach is busy.
But isn't too bad on quieter days, such as weekdays outside of the holiday season.
Of course, you could launch around the St Kilda boat ramp area, if the beach isn't possible.
Just be cautious as the boat traffic can be heavy throughout the summer season.
Blocking a boat ramp with a kayak is a sure-fire way to upset boaties, too. "Ramp rage" is a real thing, sadly, some ramps more so than others.
St Kilda Pier Fishing Tips

Fish light. No point fishing heavy here. 6 to 10lb main line. 6 to a 9-foot rod.
Focus fish species: Flathead, Bream, Pinky Snapper, Adult Snapper, Garfish and Mullet.
The rock wall facing the ocean for snapper & flathead. Inside harbour for bream & flathead.
Fish the incoming and outgoing tide, two hours on either side will see you right.
Fishing St Kilda Pier itself is good for flathead, mullet, bream, garfish and pinky snapper – well lit at night.
Night fishing is popular, though my preference early morning before & after dawn.
Fishing Hotspot Video
Lincoln from LandFish TV has a great video on fishing at St Kilda pier.
Lincoln uses soft plastics and is a huge Zman user!
St Kilda Pier Fishing Review Summary
The Fishing St Kilda pier offers has improved since the addition of the rock wall.
This is great as it was always a top spot in my opinion.
Certainly worth a trip down targetting flathead and pinkie snapper!
My biggest gripe for this spot ends up being the public toilets.
We've all got to go – but going at St Kilda can be an ordeal.
Look. I've seen toilets overflowing with faeces right out the door!
If you're young enough to hold on, then you'll probably do fine.
But as you get older it can get close to impossible after hours on a pier.
Pros
Close to the city and suburbs
Family-friendly – children under strict supervision
Good range of fish habitats and fish species
Great Flathead fishing location
In the right conditions, you can target big Snapper
In clear, calm conditions Squid fishing can be productive. Kiosk
Cons
Parking is good, but can work out expensive during the day.
Toilets are frequently in a disgusting state
Can be a gathering point for youth gangs in recent years. Which is a great shame
Parking can be hard in the Summer peak season