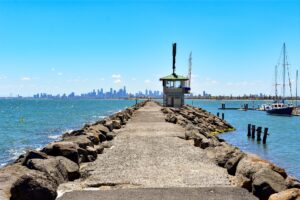 Piers offer some of the best Autumn fishing in Melbourne (and Victoria), for land-based anglers.
Much of the closest is to be had around Port Phillip and Western Port Bays.
Each one giving you access to a variety of fish species including flathead, whiting, bream, garfish, calamari (squid) and snapper amongst others.
The species to target depending on the location and seasonal factors.
Fishing From Piers
Fishing from these kind of platforms is one of the easiest ways for land-based anglers to reach fish.
They provide the land-based angler with the opportunity to get out into deeper waters.
They also provide habitat for marine life which attracts fish species into the area.
I've love fishing from piers so much I went so far as to build my homemade fishing cart. You can read the step by step guide on how I did it at the link above.
It definitely helped make pier fishing easier and more enjoyable for me.
You can also take a look at submitted and collated fishing reports for Victorian Piers during 2022.
What fish species can be caught from Victorian piers?
Most piers are found on saltwater bays, estuaries and inlets in Victoria. Some are situated on freshwater, but they are nowhere near as common there.
In freshwater pretty much any species occurring in the lake or river can be caught. Including freshwater staples like Murray Cod, trout, redfin, yellow belly and European Carp.
In saltwater, depending on the area, common catches include bream, garfish, immature "pinky snapper", adult snapper, flathead, whiting, calamari (squid), Australian salmon, tailor and many more.
As in all fishing target a specific species and use bait and rig accordingly. You stand a higher chance of catching fish by being specific, rather than hoping to catch anything that's passing by.
What is the best Bait for Pier Fishing in Australia?
There actually isn't actually "a best bait" as such. Some baits, however, have been shown to have more success than others. Bait, in this instance, refers to both natural baits and lures.
Proven natural baits include pipis, prawns (shrimp), pilchards, whitebait, bluebait, beach worms, squid (tentacles and hood) and even chicken.
Lures include soft plastics that emulate swimming fish in colors such as "motor oil" have proven to be effective on a number of fish, especially flathead. Berkley Gulp and Z-Man are very popular brands. While Savage have started to carve out some market share with their range.
Crab imitation soft plastic lures such as Cranka Crabs™ and Savage Crabs™ enjoy a lot of success with species such as bream.
While hard-body surface and diving lures can be effective for a number of species, including flathead and bream.
What rod size should I use on a pier?
Choose your rod according to what you are hoping to achieve inline with the location you are fishing.
If your goal is to cast out and reach a reef area beyond the platform then a 10-foot or longer rod will be useful.
Whereas if you're spinning lures or soft plastics you may find a shorter rod between 6 to 9-foot to be more usable.
Match your reel to the size of your rod. Bigger isn't necessarily better.
Some fisho's use telescopic rods that extends anywhere from 12 to 22-feet. They often employ floats, when using this technique. Sometimes with no reel at all. Simply collapsing the rod to retrieve hooks or their fish.
What is the Best Tide for Pier Fishing?
It very much depends on the fish species and the depth of water at a location. Where there is deeper water surrounding a pier during low tide, then ,one hour either side of high or low tide is considered best. In Australia species such as flathead can more actively feed when the tide is running out. So after the high tide turns can be excellent for flathead species.
What is Pier Etiquette?
Pier Etiquette is about considering others. Not letting your rods, tackle or catches block people from walking on the pier. Others shouldn't have to step around your calamari, rod butts or strewn leaders. Don't cast over other peoples lines. If you can't cast without crossing lines drop your line off the side of the pier. Avoid using expletives where kids might be present.
Don't crowd out others already there. Not everybody has spare bait, spare rods, spare smokes, spare anything. Some people will gladly loan gear to you. But it's not your right to expect it. I have never asked – and never would.
Some people do not want to show you their catch, tell you what bait they are using or be anything else than cordial. Respect that.
---
Victorian Pier Fishing Recommendations