The Mordialloc Boat Ramp recently completed an significant upgrade. While I've not had a chance to check it out in person reports indicate improvements include:
An additional pontoon. Disability access improvements including a new drop off area. Dredging for improved clearance during all tides. Concrete pontoons replacing the original ones. A significant car and trailer parking upgrade with more spots. The Mordialloc Boat Ramp provides small craft access to Port Phillip Bay(often affectionately known by the acronym PPB).
The railway bridge provides clearance only for smaller boats and the depth is too shallow at low tide for larger vessels.
Take care to not damage taller antennas and fishing rods when passing under the bridge!
here is council parking adjacent to the boat ramp, with trailer-sized parking spaces for their exclusive use.
The boat ramp is now free to use, as is the parking area for boat trailers.
The ramp and parking can be accessed through Governor Road.
Mordialloc Boat Ramp Overview
There are public toilets and a boat wash-down area provided.
Mordialloc boat ramp has a nice little docking area to tie up your boat after launching and when preparing to load the boat back onto your trailer.
While I have not personally used the boat ramp I have inspected it. I have also seen a lot of people doing so as I do pier fishing there frequently. It's extremely popular.
Though a lot smaller than some other ramps. The biggest issue relates to parking. Parking spots are limited and it can be very tight when busy.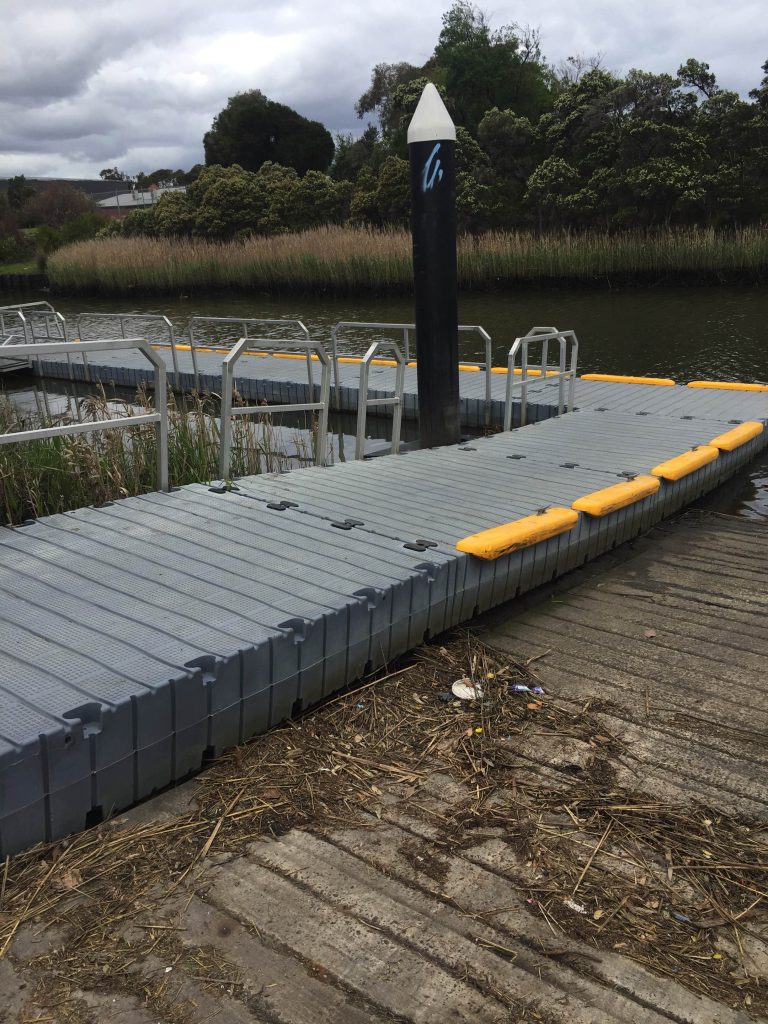 My inspection was on a quiet day, on a weekday in July. There were around four trailers parked. Parking would not have been a problem at all on that occasion.
Summer – peak boating season – would clearly have been more difficult.
Reports from fishing forums indicate that it is in fact pretty hectic at times during the summer months.
The maximum number of boats that can be technically launched is two.
Though novice boat owners might find this challenging until they gain some experience with backing their trailers.
Because the ramp tends to be quieter during cooler months it makes an ideal place to practice launching if you're new to it. You will get to launch in a calmer area, without strong winds and tides.
Try navigating up and down the estuary. Then put your boat back on your trailer and repeat several times!
Heading downstream towards Port Phillip Bay provides a lovely scenic view of moored boats.
Some of them are quite impressive.
Adding some interest to the trip both out and back home to the boat ramp.
Patterson Lakes boat ramp (about ten minute drive further south) is a lot larger and possibly more suitable for some bigger boats.
Mordialloc Boat Ramp Fishing Spot Access
Just offshore from the Mordialloc beach, facing south and to the west of the Mordialloc Pier, there are some good seagrass flats that do produce flathead, whiting and squid.
Pinkies should also be possible while further offshore larger snapper is to be found.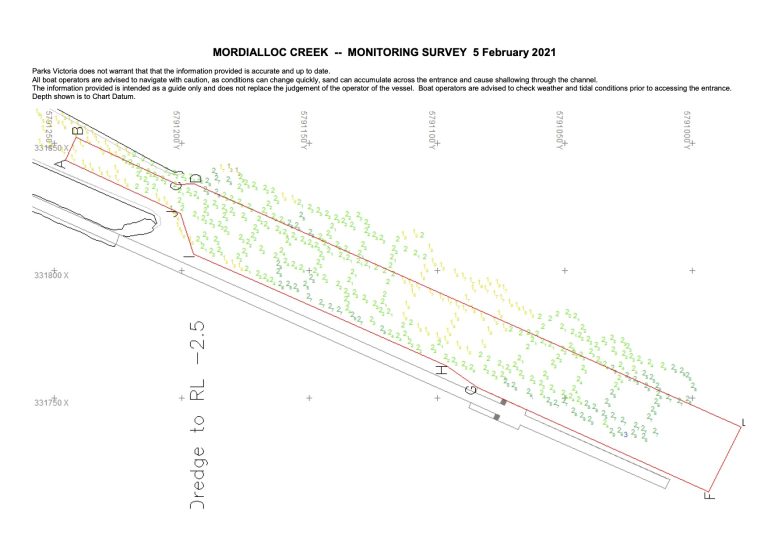 Parks Victoria recently published a report on the depth of the creek channel, showing depth after dredging.
The image can be clicked to zoom in.
I've attached a photo for reference below.
Mordialloc Boat Ramp Kayak Launching
By far the best access for people launching Kayaks would be the Mordialloc boat ramp.
Then paddling downstream of the creek and out to the bay.
Just remember not to block the ramp while rigging.
Rig back at the car and launch as quickly as you can.
Don't hog the trailer parking area with your car if you're not towing a trailer.
This may not be as big an issue in Winter, but in summer it's guaranteed to cop you some abuse!
Access there is going to be easier than the beach for many people.
Access near the river mouth itself is pretty limited for launching – if not impossible.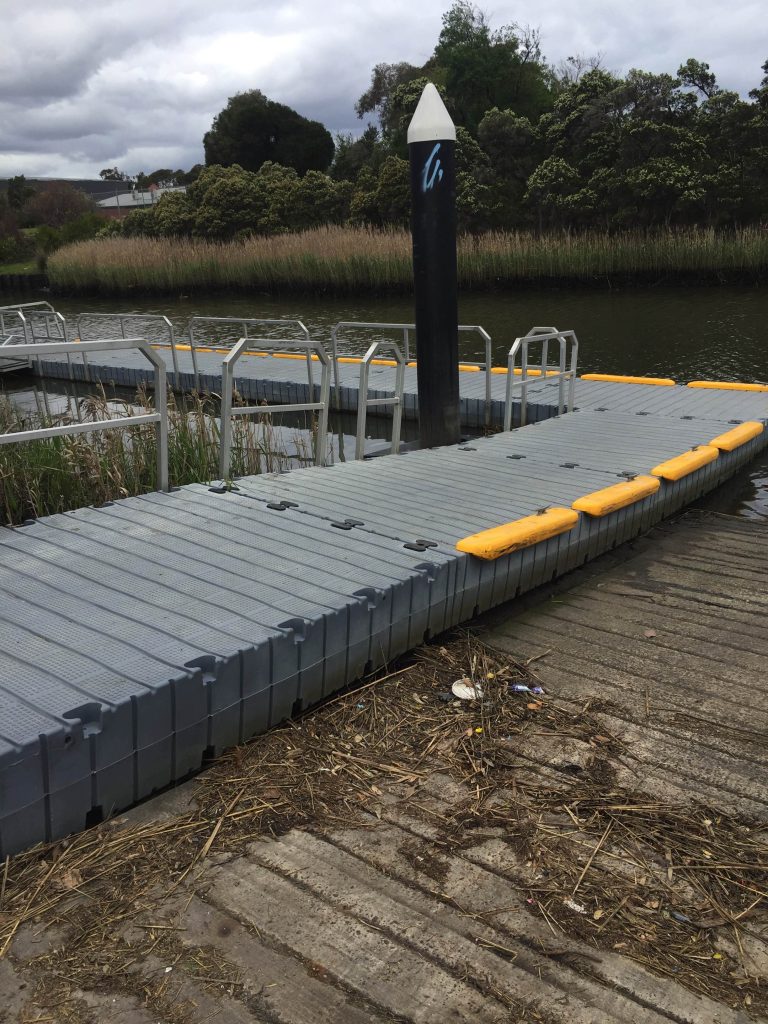 The beach, in my opinion, is a maybe.
I've not tried it. The barriers around the car park, along with the fencing for the bulk of it, make this extremely awkward for larger Kayaks that are suitable for Port Phillip Bay usage.
I'd opt for using the boat ramp!
Lugging a Hobie over chain fences and up and down concrete stairs will give you more than a workout – and possibly a hernia.
If you must beach launch, I'd recommend the Aspendale Beach area that's adjacent to Mordialloc.
The sides of the estuary are quite high, relative to the water level, making launching there a non-option.
Fishing conditions, once out of the slow current and glass smooth estuary, are generally good in calm weather.
Keep in mind the forecasts for weather and swell.
During a big blow, it can get very dangerous.
Take note that powerboats and jet skis make heavy use of the estuary.
This can be hazardous without due care.
Make sure you are highly visible and keep to the right-hand side as per regulations.
---
Mordialloc Boat Ramp Target Species
Heading out from the boat ramp and into Port Phillip Bay gives you a variety of target species to focus on.
Fish Species
Quick Info
Pinky Snapper (Juvenile Snapper)
Mugilidae sp
Much more prevalent during warmer months. This name applies to juvenile specimens of Snapper.
Bait: Bluebait, Chicken Breast, Flathead Fillets, Mullet Fillets, Mussels, Pilchards, Pipis, Prawns, Sandworms, Squid Hoods, Squid Tentacles, Whitebait, Whiting Fillets
Flathead
Platycephalus sp
But much more prevalent during warmer months..
Bait: Bluebait, Chicken Breast, Flathead Fillets, Mullet Fillets, Mussels, Pilchards, Pipis, Prawns, Sandworms, Squid Tentacles, Whitebait, Whiting Fillets
Australian Salmon
Arripis trutta
Common for schools to move through, chopping up the water before moving on. Can be common during cooler months.
Bait: Bluebait, Chicken Breast, Flathead Fillets, Mullet Fillets, Mussels, Pilchards, Pipis, Prawns, Sandworms, Squid Hoods, Squid Tentacles, Whitebait, Whiting Fillets
Mullet
Mugilidae sp
Can sometimes be the only game in town during cooler weather.
Bait: luebait, Chicken Breast, Earthworms, Mussels, Pilchards, Pipis, Prawns, Squid Tentacles
Southern Black Bream
Acanthopagrus butcheri
Can become less active during Winter. Activity picking up in late August. Active during warmer months.
Bait: Bluebait, Chicken Breast, Crabs, Earthworms, Mussels, Pilchards, Pipis, Prawns, Sandworms, Whitebait
Calamari
Sepioteuthis australis
Known commonly as Squid or Calamari. Best fished when waters are clear with little turbulence. Top times can be during June to September.
Bait: Fish mounted on squid bait jigs
---
Mordialloc Boat Ramp Review Summary
Overall Mordialloc boat ramp is a good ramp for small craft. Larger, taller vessels are not going to manage to pass under the bridges. I've rated it 4 (four) stars out of five because of the parking. Parking really needs to be extended and trailer-only parking restrictions need to be enforced.
When you are launching keep in mind the ramp limit is two vessels. Please do not waste unnecessary time getting ready on the ramp. Prepare your boat on the trailer (or at home before you arrive) to keep your launch time minimal and avoid annoying other boat owners.
The boat ramp is slated for improvements at the time of writing. Though I'm not aware of what those may be.
Trailer parking is certainly well designed, though limited in the number of spaces. So tends to get pretty full during peak season. Jetski launching is permitted. This tends to increase competition for parking in the summer months.
Launching Kayaks is possible from one of the beaches but for many, the ramp will be easier. Just keep in mind you should not hog the trailer parking area unless you are towing a trailer!
Pros
Close to Melbourne
Calm Launching Conditions
Boat Cleaning Facilities
Free Trailer Parking
Public Toilets
Access Port Phillip Bay
A good place to learn to launch your boat during quieter and cooler months
Cons
Limited Trailer Parking Bays During Peak Season
Only two boats can launch at a time
The docking area limited to a few boats at a time
Small boats only due to railway and road bridge height
Awaiting funding for maintenance and improvement works to be undertaken
Can't eat fish caught from creek due to pollution, need to take the boat out into the bay