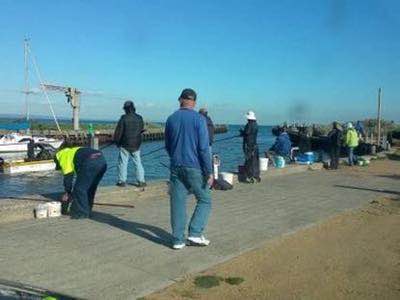 A lot of folks target bream in the estuary when Mordialloc Creek fishing.
A lot of these folks eat what they catch. I have to say – I'm not one of them.
My reluctance stems from the condition of the water in the creek estuary system.
It really isn't always great. In fact, decades of chemicals running into the creek have led to a semi-permanent toxic sludge on the creek bed.
See – the thing is – lots of petroleum by-products have made their way down the creek from further upstream at times.
Along with paint products and other chemicals.
It's a real shame as it is a beautiful location and very, very accessible.
Because of the local environmental issues in Mordialloc Creek catch and release fishing is absolutely the order of the day.
This of course is cool because catch-and-release fishing trips are more sustainable!
Mordialloc Creek Fishing Overview
The footpaths and well-made concrete walls make Mordialloc Creek fishing one of the most comfortable in Melbourne.
While you will see people at Mordialloc Creek fishing with traditional bait there's a heck of a lot of opportunity for soft plastic and hardbody lure enthusiasts here.
The structure afforded by the moored boats as well as the churn you get at the mouth at times gives you plenty of opportunities and I reckon more folks could outfish the bait fishos here if they fished these spots.
The area where most people go Mordialloc creek fishing is directly opposite the Mordialloc yacht club.
Mordialloc Creek Fishing Bait & Tackle Recommendations
If you're targetting bream – with a by-catch of mullet, then the chicken is always a great bait when Mordialloc Creek fishing.
Along with pipis, prawns and even whitebait.
Flathead will be happy enough to accept the same baits on the same rigs when they are present in the estuary. Though I've caught more flathead on soft plastics in the Mordialloc Creek than I have using bait.
Keep your sinkers light. Try a running sinker or a paternoster rig. Light lines are essential. You shouldn't need more than 4 to 6lb's here.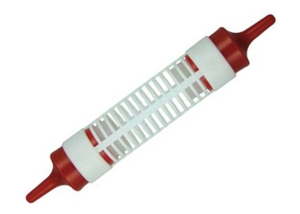 Some folks use a float – and very effectively too! The flow of the creek isn't strong, though this will vary with some tides and weather conditions. A good choice is a pencil float or a feeder float.
It's also ideal for soft plastics. Paddle-tails are excellent, in a variety of colours.
While I see very few people doing it, on Mordialloc Creek, I found it is important you use berley to bring the fish into you. Especially when you're fishing with a crowd of other anglers.
Bream, for example, are going to frequently be found under moored boats. So getting them to venture out and find your bait requires some attraction. Go for a cloud-type berley. Slowly dispersing if possible, rather than just tossing it out there.
A berley cage attached to your rig is ideal for this. You can use the ones that attach to your line and replace your sinker. You can also use the float-style feeder rigs which you will often see older folks using when fishing Mordialloc Creek.
Other people suggest using sandworms, maggots and earthworms. But I have found chicken breast, with a bit of secret sauce added, outperforms these baits when Mordialloc creek fishing Even when you are out on Mordialloc Pier fishing.
Smaller hooks – around 1/0 can work really well at Mordialloc for species such as mullet and bream.
Fishing Mordialloc Creek: Fish Species
Fish Species
Quick Info
Pinky Snapper (Juvenile Snapper)
Mugilidae sp
Much more prevalent during warmer months. This name applies to juvenile specimens of Snapper.
Bait: Bluebait, Chicken Breast, Flathead Fillets, Mullet Fillets, Mussels, Pilchards, Pipis, Prawns, Sandworms, Squid Hoods, Squid Tentacles, Whitebait, Whiting Fillets
Flathead
Platycephalus sp
But much more prevalent during warmer months..
Bait: Bluebait, Chicken Breast, Flathead Fillets, Mullet Fillets, Mussels, Pilchards, Pipis, Prawns, Sandworms, Squid Tentacles, Whitebait, Whiting Fillets
Australian Salmon
Arripis trutta
Common for schools to move through, chopping up the water before moving on. Can be common during cooler months.
Bait: Bluebait, Chicken Breast, Flathead Fillets, Mullet Fillets, Mussels, Pilchards, Pipis, Prawns, Sandworms, Squid Hoods, Squid Tentacles, Whitebait, Whiting Fillets
Mullet
Mugilidae sp
Can sometimes be the only game in town during cooler weather.
Bait: luebait, Chicken Breast, Earthworms, Mussels, Pilchards, Pipis, Prawns, Squid Tentacles
Southern Black Bream
Acanthopagrus butcheri
Can become less active during Winter. Activity picking up in late August. Active during warmer months.
Bait: Bluebait, Chicken Breast, Crabs, Earthworms, Mussels, Pilchards, Pipis, Prawns, Sandworms, Whitebait
---
Mordialloc Creek Fishing For Bream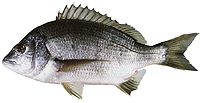 However – there's no question the pollution doesn't seem to affect the Bream biting. So if you're into catch and release then fishing Mordialloc Creek offers some fine sport at times.
Mordialloc Creek fishing mostly takes place where the creek runs adjacent to the car park to the mouth. Level with where the Mordialloc Pier begins.
There's one interesting fishing technique that you'll see doing when Mordialloc Creek fishing.
A method that you don't see in too many other places around Melbourne. It is the long European rods.
These rods often have no reel. The line affixes directly to the rod butt and the rod. Often telescopic. It is extended out over the water – rather than cast.
These rods can be anywhere from 10 to 18 feet long. They do in fact catch fish with them too!
However, most folks are probably going to use a standard spinning rod up to 9′ in length.
Fishing Mordialloc Creek – Carp?
Carp. Yes. Carp.
The insidious and introduced pest species European Carp – aka "Mud Marlin" have been caught by fishos fishing, Mordialloc Creek. Just upstream of the creek mouth. Towards the pub.
Some anglers are reporting, as the years go by, that this highly invasive, noxious species, is being found closer and closer to saltwater.
I doubt if this tough fish will ever make a full transition. The reason is that full saltwater causes the cells of freshwater fish to fill with saltwater and die. You may remember this from high school biology.
But it does speak to how tough they are when they're entering into tidal streams!
Got to admit I was pretty surprised to learn people were doing Mordialloc Creek fishing for Carp and not just Bream and Mullet!
Seriously – this fish is one tough species. One could almost imagine it evolving into some kind of super predator.
Just kidding. Kind of.
Mordialloc Creek Fishing Tips
Fish for Bream, Mullet, Flathead, Australian Salmon & Pinky Snapper.
Use a light line. 4kg to 6kg recommended.
Good baits: chicken, pippis, worms, maggots, soft plastic lures.
Use a berley cage with finely ground berley on your line for good results.
Family-friendly. Paid parking. Toilets and kiosk.
Around 40 mins from Melbourne CBD
Catch & Release recommended due to creek water pollution.
As mentioned above. Even if using lures I'm inclined to make sure I put out some berley. Tuna oil, bread. The usual stuff – even a little chicken pellets. Berley light. Just enough to generate some interest, but not enough to actually feed the fish.
I use berley cages – either floating and tied to my chair – or one of the many that can be attached to your line instead of a sinker. They are simple and very effective when bait fishing. Obvious when lure fishing a cage suspended in the water is going to be your only choice.
Having said that a bit of attractant smeared on your lure. Either homemade or commercial. It is an absolute must in my opinion. Particularly on those days where everybody else is producing doughnuts.
Look. Most anglers don't use berley. It really can make a difference. Just keep in mind the downside when fishing with bait and berley at Mordi Creek is the pickers.
Small fish, toadfish and others are also attracted in and can easily become a nuisance. A little berley can go a long way. So don't go overboard.
I've found Squidgies S Factor to be one of the best attractants to smear on a lure in most Victorian saltwater fishing spots. But you can – and should – experiment.
There are some great products out there and sometimes one works in a location where another doesn't.
I tend to use Squidgies S Factor on lures and bait at any fishing hotspot. However, when Mordialloc Creek fishing you will sometimes find the fishing pressure requires you to b a little further.
Fish The High or Rising Tide
Yep. It's a small creek. A lot of species move in and out with the tides. I've had the best success in Mordialloc Creek fishing the rising tide up to high tide. Then during the slack period before it starts to run out again.
I've found fishing Mordialloc creek right at the mouth, near the rocks, for bream in the early morning to be good fun. Starting at first, light – and then when light permits wearing polaroids – you can see them entering the creek.
Casting a curly tail lure amongst them can produce some good models. A rising tide is perfect. Calmer conditions are best and during the cooler months with less boat traffic the ideal time.
Boating & Kayak Fishing
Boats and kayaks can launch upstream of Mordialloc creek using the Mordialloc Boat Ramp. Good for small watercraft.
I'd be more inclined to launch from the beach at Aspendale if looking to kayak fish at Mordialloc.
However, remaining mindful of jet skis and powerboats, it is possible to paddle a kayak Mordialloc creek. Casting between the moored boats and giving access to areas land-based fishos can't reach.
A Final Note On Pollution & Mordialloc Creek Fishing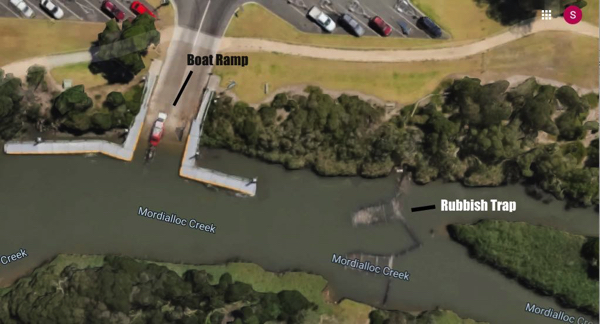 I spoke recently to an officer of the Victorian EPA. He told me some of the waste removed from the Mordialloc Creek at times is rated as "Proscribed" which is about as nasty as you can get (and rarely legal in our waterways).
He also pointed out to me (see photo) the rubbish traps located just upstream of the Mordialloc Boat Ramp.
His advice to me was that some pollution that has entered the creek over the years included heavy metals including Cadmium, mercury, chromium and lead.
Pretty nasty stuff.
Catch and release sounds like excellent advice to me when you are Mordialloc Creek fishing!
---
Mordialloc Creek Fishing Video
Mordialloc Creek Review Summary
I've rated fishing Mordialloc Creek 5 stars in fishability because it certainly produces Bream consistently.
A point to consider is the often seen oil slicks on the creek tend to make eating what you catch, in my opinion, not an option.
However. This is the new century…
Catch and release is not only a sustainable fishing pursuit – but it also helps you dodge eating fish flesh that may be tainted with pollutants.
So – there's no reason at all not to go Mordialloc Creek fishing and make the most of what is otherwise a great hotspot for bream, mullet and even pinky snapper at times.
Just be mindful of other anglers when it's crowded.
What can I say? Casting over their lines is rude!
Pros
Close and easy access via Nepean Highway
Family-friendly – children under strict supervision
Good range of fish habitats and fish species
Reasonably Disability friendly on pathways along the creek from car-park
The great structure under and around boats for bream
Can be very productive fishing at times
Plenty of Parking
Cons
Parking good, but can work out expensive during the day.
Toilets unpredictable. Sometimes fair – sometimes rancid.
Can be a gathering point for youth gangs and evidence of drug use at times in toilets and scrub areas along the foreshore.
Creek polluted, so avoid eating fish taken from the creek – catches from the pier are fine according to EPA.