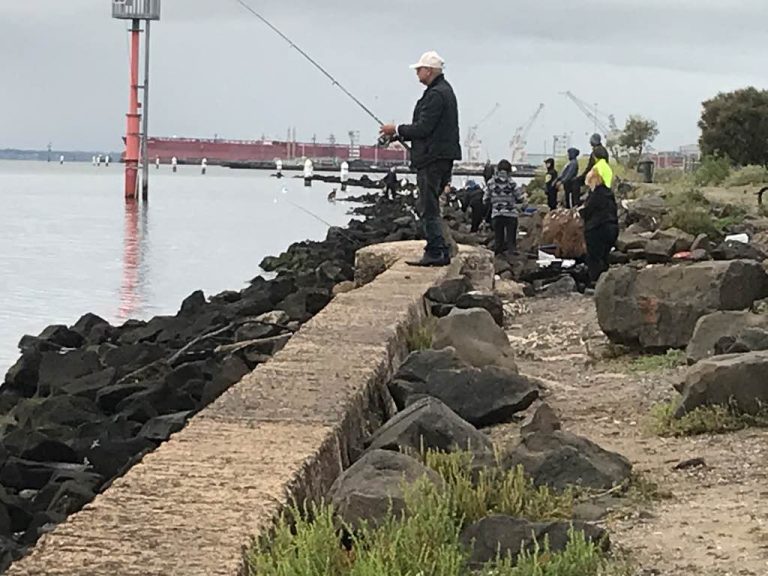 The Warmies fishing hot spot is considered to be one of the finest spots for fishing in Melbourne, by many.
I've got to admit I love fishing the Warmies myself.
Back when the area was the industrial heart of Melbourne old-timers loved to say "If the stack's blowing… I know where I'm going!"
Keep reading as I'll explain why they said this…
The Warmies Fishing Overview
While it's technically in the suburb of Newport it's often referred to as Williamstown.
That's probably because of the proximity to the Williamstown boat ramp.
I originally rated it a 1-star fishing spot due to the pollution in the waters feeding into the area.
However. I've upgraded the Fishability rating to 5 stars. Keeping the environmental aspect one star.
Look, I did this because the Warmies certainly does produce a lot of fish.
So with that in mind, I recommend you practice Catch and Release. Just to stay on the safe side of the health aspects.
While eating fish from the Warmies is considered safe, there are EPA recommendations on how much.
This is due to heavy metals and other toxins pumped out by industry historically – and more recently some severe, illegal spills in the waterways feeding the Yarra/Maribyrnong system.
A few fish once a week are not considered dangerous. Personally, I'd not take the risk.
Why Is It Called Fishing The Warmies or Hotties?
Because the water in the channel is warmer than the water in Port Phillip Bay and the Yarra Estuary.
Essentially the Newport power station pumps warm water, used to drive its turbines, into the channel via outflow pipes.
That is when the water in the channel rises from as low as 9 c degrees to a tropical 22 c degrees.
Unsurprisingly the fish love this temperature!
In fact, bust-ups of Australian Salmon are pretty common, right inside the channel. Guaranteed to get the pulse pumping.
The fact is that beyond smaller Pinkies some very large Snapper and Mulloway are caught on occasion.
So the name comes from the water temperature produced when the power station is pumping out water used to cool the turbines. Hence The Warmies or as some folks know it The Hotties.
My general preference is not so much the outflow channel of the Newport power station. But the mouth of the Yarra River Estuary is just on the other side of the spit.
Why? Because it is often a little quieter and easier to get a spot. Which is how I prefer it.
Just watch out for Joe Blakes – aka snakes. It is not unusual to spot them sunning here.
Warmies Fishing – A Lot To Offer As A Fishing Hot Spot
The Warmies fishing hot spot has a lot to offer. I just recommend catch and release.
There's a large car park, public toilets, parkland and BBQ facilities. It's pretty well serviced. It can also get incredibly overcrowded at times. So it's important to be respectful of other anglers.
Take care not to cast over lines already out there and crowd other folks out.
Bream, Mullet and the mighty Mulloway can be caught all year round.
Snapper moving in during Spring and Summer.
Flathead tends to bite more willingly at the Warmies during the warmer months too.
During the Winter and Spring Australian Salmon and Tailor can be caught.
Some of the best times to fish are when the smokestack is operating at the power station. That's when the warmer water is flowing into the channel.
Fishing at night is best if you're targeting Mulloway.
Fish the tide changes in general as this channel is pretty much devoid of fish-friendly structures. Beyond submerged debris.
From time to time some pretty impressive Mulloway and Snapper are taken at the Warmies.
Mulloway is powerful fish often growing large in size. Though notoriously challenging to hook and land.
The Warmies Fishing Bait & Lures
Baits and lures are varied here.
Hard body spinning, soft plastics, frozen baits like Pipi, squid head, squid tentacles, whitebait, pilchards, sandworms, prawns and Bass yabbies are popular choices.
On the other hand, if you see me there, you'll probably see me using chicken strips and some secret sauce!
Fishing The Warmies – Two Great Fishing Spots In One
The area offers two great fishing spots in one.
The channel leading from the outflow from the power station is where the warm water is to be found.
The Yarra River Estuary is a short walk to the West of the channel offering some more fishing opportunities.
The Yarra Riverside spit area is lined with a low rock wall allowing you to cast out into the river.
This is almost directly where the Yarra River meets the sea.
I often fish in this area instead of the channel.
It can be a little easier to find a spot to fish when the Warmies channel is busy with anglers flicking lures and crowding each other out.
The fishing spot is almost directly opposite another great fishing location – Port Melbourne's Yarra Estuary.
Warmies Fishing vs Pollution & Snags – A Warning
---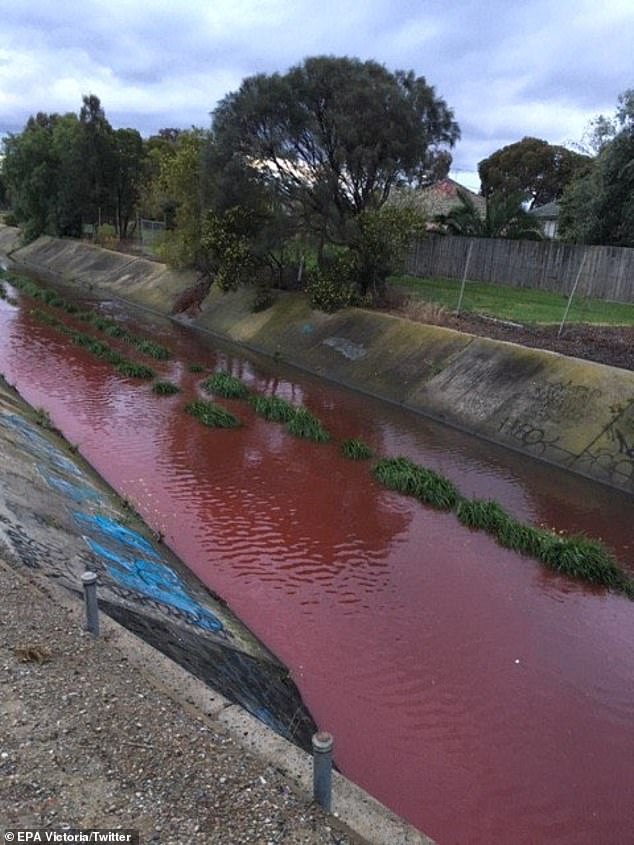 The area has received a lot of abuse over the years from industrial pollution upstream.
Both the Maribyrnong and Yarra Rivers have had over a century of outflow from factories, households and more poured into them.
A few years ago a major industrial spill saw significant environmental damage.
Another spill as recent as 2019 saw Stony Creek turn rust red.
Much of this material finds its way into the Yarra Estuary.
On top of this heavy metals used in industry for over a hundred years, such as mercury, are present.
While the EPA generally deems the fish safe to eat in limited quantities I'd suggest caution.
Snags are a problem.
Both in the channel from the power station outflow and in the Yarra Estuary.
So it's not unusual to lose a few rigs. Come prepared for that.
It's the nature of river estuaries.
Don't Make My Dumb Mistake When Warmies Fishing
It's easy to get excited – and distracted – when you see a fish bust up. Those Aussie Salmon leaping out of the air. The pulse quickens. The heart pumps. The brain engages. The eyes avert to see the action.
Then – I did myself a mischief.
Falling head over heels – sliding out a meter and a half on the gravel.
'Cos that's what I did on one occasion at the Warmies.
Exactly this.
Managed to cut me up and bleed to such an extent I couldn't do anything. Except to drive home (24 km away) one-handed and have the missus patch me up.
Both knees skinned deeply. Thighs with gravel rash and bleeding. Stomach bleeding. Elbows. You get the picture. Lots of red stuff.
I'm too embarrassed to tell anyone. Except I just told you. So keep it quiet.
Right?
I'd have laughed. Except it happened to me – and you know how that goes.
Warmies Fishing Tips
When salmon are busting up a lure can really clean up.
Watch out for snags. It's easy to lose rigs within the channel.
Warmies fish species: Australian Salmon, Mulloway, Snapper, Flathead.
Best times are when the power station turbines are pumping out warm water.
10 to 20lb mainline for most species. A 7 to 9-foot spinning rod is ideal.
Baits: Soft plastics, chicken, pilchards, whitebait, pipis and prawn.
What Fish Can You Catch At The Warmies?
While I've mostly caught pinky snapper, flathead, bream and mullet when Warmies fishing there are times when the Australian Salmon come right on in.
However, the most surprising catch for me was in February 2021 with a new moon.
I was pulling in the usual pinkies and flathead. Next thing I know I hauled in a juvenile 7-Gill Shark. Quite the unexpected toothy critter in the Yarra Estuary.
Naturally, he was released unharmed.
Fish Species
Quick Info
Australian Salmon
Arripis trutta
Common for schools to move through, chopping up the water before moving on. Can be common during cooler months.
Bait: Bluebait, Chicken Breast, Flathead Fillets, Mullet Fillets, Mussels, Pilchards, Pipis, Prawns, Sandworms, Squid Hoods, Squid Tentacles, Whitebait, Whiting Fillets
Snapper
Mugilidae sp
Much more prevalent during warmer months. This name applies to juvenile specimens of Snapper.
Bait: Bluebait, Chicken Breast, Flathead Fillets, Mullet Fillets, Mussels, Pilchards, Pipis, Prawns, Sandworms, Squid Hoods, Squid Tentacles, Whitebait, Whiting Fillets
Pinky Snapper (Juvenile Snapper)
Mugilidae sp
Much more prevalent during warmer months. This name applies to juvenile specimens of Snapper.
Bait: Bluebait, Chicken Breast, Flathead Fillets, Mullet Fillets, Mussels, Pilchards, Pipis, Prawns, Sandworms, Squid Hoods, Squid Tentacles, Whitebait, Whiting Fillets
Garfish
Hemiramphidae sp

Bait: Maggots, Whitebait or Bluebait Pieces, Bread Doung, Pipies, Prawn, Squid pieces, Sand worm.
Flathead
Platycephalus sp
But much more prevalent during warmer months..
Bait: Bluebait, Chicken Breast, Flathead Fillets, Mullet Fillets, Mussels, Pilchards, Pipis, Prawns, Sandworms, Squid Tentacles, Whitebait, Whiting Fillets
Mullet
Mugilidae sp
Can sometimes be the only game in town during cooler weather.
Bait: luebait, Chicken Breast, Earthworms, Mussels, Pilchards, Pipis, Prawns, Squid Tentacles
Southern Black Bream
Acanthopagrus butcheri
Can become less active during Winter. Activity picking up in late August. Active during warmer months.
Bait: Bluebait, Chicken Breast, Crabs, Earthworms, Mussels, Pilchards, Pipis, Prawns, Sandworms, Whitebait
---
The Warmies Fishing Hot Spot Video
The Warmies Fishing Review Summary
Fishing The Warmies is definitely worthwhile.
It has consistently produced fish for most of the last century.
I very rarely visit and catch nothing. However, the time of day is crucial.
I've found mornings to be the best. With the two hours, either side of the high tide is preferable.
When the Newport power station is pumping out the water that is used to cool its turbines the channel is a great place to fish.
It is not uncommon to see schools of Australian Salmon breaking the surface of the water. Along with some larger snapper at times and of course some decent mulloway.
From February to late March, I've found small Pinky Snapper can be a nuisance, making up the bulk of the catches.
However, persevere as larger fish are there.
Fishing the estuary from the rocks can also get yourself some good Bream action, too.
Pros
Close and easy access From the City & Western Suburbs
Family-friendly – children under strict supervision
Good range of fish habitats and fish species
In the right conditions, you can target big Snapper
Big Mulloway at times, particularly at night
"Reasonable" Unisex Toilets
Adjoins extensive parkland – so plenty of room for the kids to run
Cons
Pollution is a real problem in the waterways here.
Eating fish is not recommended in quantity
Car Parking can be difficult during the Summer season as the boat ramp is extremely popular
The area can become packed with anglers, particularly when the power station is pumping out water A lot of snags. Bring plenty of rigs or be prepared to tie new ones