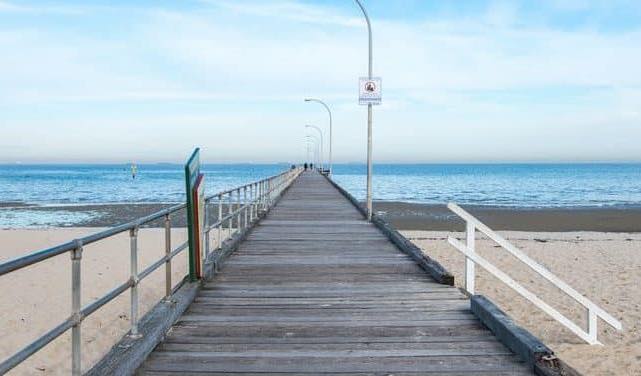 This pier is another casualty of a lack of maintenance by the Victorian State Government.
It is closed, with no set repair time (if any.)
Please write to the Parks Ministers responsible: Lily D'Ambrosio MP and Hon. Melissa Horne MP, to voice your frustration with this increasingly common problem with Victorian pier closures.
Altona Pier Fishing Overview
The deepest part of the pier is the end, so it tends to fish best on the rising tide.
I've personally witnessed a school of whiting feeding right off the end of the pier.
Be warned – approach quietly as they are extremely shy and will dart off quickly into deeper water.
While Altona Pier can certainly fish well I've found its popularity with swimmers and kids diving off the pier can make it difficult at times. Particularly during summer!
One year I set up at the very end of the pier, facing the artificial reef. Overnight the temperature hadn't dropped below 25C. The day was set to be 40C plus.
A couple of guys who obviously wanted to dive off the end of the pier tried to convince me there was a huge snapper swimming halfway down. A rather sad attempt at getting me to move!
However, even from the North Eastern suburbs, Altona Pier is a great fishing spot that's not too far from most West and North and North Eastern suburbs.
My advice is to check out Google Maps (satellite view) or Google Earth before you get there.
These tools give you a pretty good look at the structure in the water. The artificial reef, sandbanks, holes and submerged seagrass areas.
There's plenty of parking and a number of cafes and food outlets nearby.
The park, located opposite the pier, has well-maintained public toilets with electronic "smart locking and cleaning". Be advised, at least when I've been there, they are closed before 6:00 am.
Target Fish Around Altona Pier

While Flathead is present at Altona Pier year-round. Snapper, Pinkie Snapper and King George Whiting can be targeted during the summer months.
Like flatties, bream are present year-round too. You'll often find them lurking under the pier itself. Just be wary of getting caught in the pylons when the bream make a dash for it. Some good size fish are taken at times.
Like most piers, the Altona Pier tide plays a role in fishing. My best times have nearly always been an hour or two before and after a high or low tide.
Plus I nearly always fish here before and just after dawn. I set up an hour to two hours before the first light, staying around two hours after sunrise.
I find the pier to be quieter at this time than during the evenings. Particularly during summer.
Altona Pier Squid
Altona Pier Squid is best targeted in the sand flats between weed beds.
You'll often be able to see them as the water is quite clear.
Consider trying some darker-coloured squid jigs first.
Black, dark browns with a flash of luminescent green. If these aren't producing the desired results then change to something a little brighter. Moving your way towards lumo bright.
I go a step further and treat my jigs with a light spray of Ultraviolet Spray. Charging this all up with 60 seconds under a portable black light.
Little things like this can really make a difference when it comes to bagging out on squid.
Bait & Tackle
The best baits are the traditional ones. These include Pipi, pilchard, garfish, tuna and squid. Prawns are worth a shot for the flathead, 'cos, you know – "lizards and prawns."
Soft plastics, fished properly, with some scent are absolutely worth using at Altona Pier. Try any of the small fish-type plastics, prawns, Gulp sandworms etc.
With your soft plastics, you can try casting and jigging, retrieving and even "dead sticking" as you would a natural bait. Experimentation is key.
I usually fish with at least two rods. One soaking a soft plastic or natural bait. The other with something like a Berkley Gulp on a jig with which I work the water.
I usually fish with a paternoster rig here. A whiting rig makes a good all-around and well-balanced choice.
Altona Pier Artificial Reef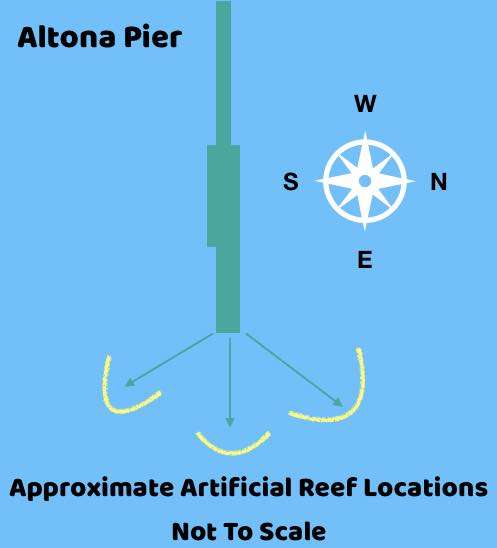 The artificial reef is best accessed from the end of Altona Pier using a beach rod.
The reef was added specifically to attract fish species into the area. Providing a marine habitat.
It's made up of concrete structures and seems to have been extremely effective in attracting marine species to colonise it.
Use live, fresh, frozen or even soft plastics on the reef.
Under less windy conditions you shouldn't need to fish too heavy.
So you can keep the sinker weight down. Allow just sufficient for casting out.
The current is generally quite light and shouldn't drag too much.
A small star sinker in the range of 30 to 40g (1 to 1 1/2 oz) is about right for most purposes.
Altona Pier Fishing At A Glance
Juvenile or "Pinky" SnapperArtificial Reef, located off the end of the pier, has improved fishing significantly.
I tend to fish light. 6 to 10lb main line. No more than 20kg (or less) leader. 5 – 9foot rod.
My preferred rig for bait fishing is paternoster here. But a running sinker will work fine.
For whiting, flathead, pinkies and snapper cast off the end of the pier.
For bream cast around the pier sides and directly below. Take care not to snag pylons.
Recommend Zman Motoroil colour paddletails here if you're spinning soft plastics.
Suggested bait: pilchards, bluebait, whitebait, pippis, sandworms, mussels, chicken breast.
Altona Pier Target Fish Species
Fish Species
Quick Info
Snapper
Mugilidae sp
Much more prevalent during warmer months. This name applies to juvenile specimens of Snapper.
Bait: Bluebait, Chicken Breast, Flathead Fillets, Mullet Fillets, Mussels, Pilchards, Pipis, Prawns, Sandworms, Squid Hoods, Squid Tentacles, Whitebait, Whiting Fillets
Flathead
Platycephalus sp
But much more prevalent during warmer months..
Bait: Bluebait, Chicken Breast, Flathead Fillets, Mullet Fillets, Mussels, Pilchards, Pipis, Prawns, Sandworms, Squid Tentacles, Whitebait, Whiting Fillets
Australian Salmon
Arripis trutta
Common for schools to move through, chopping up the water before moving on. Can be common during cooler months.
Bait: Bluebait, Chicken Breast, Flathead Fillets, Mullet Fillets, Mussels, Pilchards, Pipis, Prawns, Sandworms, Squid Hoods, Squid Tentacles, Whitebait, Whiting Fillets
Whiting
Sp
Generic Name for a number of Whiting Species found in Australia.
Bait:
Mullet
Mugilidae sp
Can sometimes be the only game in town during cooler weather.
Bait: luebait, Chicken Breast, Earthworms, Mussels, Pilchards, Pipis, Prawns, Squid Tentacles
---
Altona Pier Review Summary
A truly great fishing pier.
The artificial reef is a testament to the reinvestment of monies raised from fishing licenses being used to enhance fish habitat.
Bream under the pier, whiting and snapper off the end, towards the reef.
With flathead scattered along the length.
Well worth a fishing trip!
It is one of my favourite Melbourne suburban piers.
Pros
Close and easy access to Melbourne
Good parking
Toilets are a distance away, but extremely well maintained (self-cleaning.)
Family-friendly – children under strict supervision
Good range of fish habitats and fish species In the right conditions, you can target big Snapper
In clear, calm conditions Squid fishing can be productive.
Cons
Can be very busy in the summertime
Has sporadically attracted some youth gangs in recent years.
Some people "party" on the pier on hot nights and leave a terrible mess of litter and food scraps behind them.