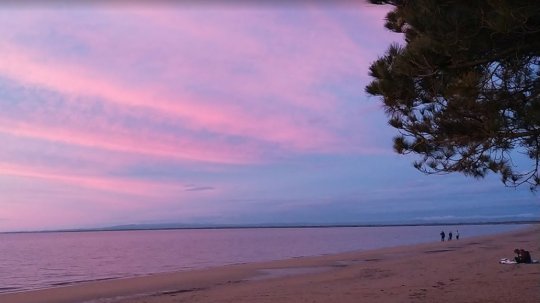 Dave's Fishing Spot Tips
Lang Lang Beach is well known as one of Western Port Bay's land-based Gummy Shark hot-spots.
While there is no guarantee of catching a gummy - and reports are in no way consistent - this is one of those places where your chances are increased considerably.
In my experience the best bait for Gummies is fresh locally caught squid. They'll take pillies etc, too. But fresh squid seems to be the magic recipe here.
Some fishos, on the other hand, swear by banana prawns on a 3/0 circle hook.
My recommendation is to take each and test for what works on that day.
Adult snapper work well using these techniques, bait and rigs, too. The good news is there's a good chance of landing some decent models at Lang Land, too.
Because it's shallow and the tides are so large you have to wait for the water line to come to you. Once the tide comes in over the sand and mudflats you'll be able to cast out into sufficiently deep water.
Under no circumstances try walking out to reach the water line. You'll sink knee deep in mud quicker than you can get yourself back to dry land.
There's plenty of by-catch species here, too. Mullet can be plentiful, the odd snook, pinky snapper and even flathead at times.
Other species include salmon and a few species of smaller sharks.
Back in the 80's an old timer I knew told me that his rule of thumb with land-based gummy sharks was "Fish where you find crabs."
Lang Lang, like some other land-based hot-spots on Western Port Bay, has a healthy population of crabs, so his rule seems to hold some weight.
I fish with a minimum of a 12 foot rod. Sometimes going the whole hog and using a 16 footer. This helps give me the casting distance to reach the gummy strike zone from the shore.
Fish the incoming, full and ebbing tide. Basically when you can reach and area with enough depth with your rod.
The map coordinates for Lang Lang Beach are Lat: -38.309198 and Long: 145.5011123.The elevation of Lang Lang Beach is 2 m above sea level. You will need to drive 92.6 km from Melbourne to get to Lang Lang Beach. It takes an average of 01:17:00 minutes to get to this fishing spot from Melbourne. Other fishing locations near Lang Lang Beach include Jam Jerrup, The Gurdies, Grantville, The Gurdies, Corinella, Coronet Bay.
Lang Lang Beach Target Fish Species
Popular Lang Lang Beach fish species include Gummy Sharks, Flathead, Whiting, Elephant Fish, Salmon. Many fishos find the following bait works well at Lang Lang Beach: Pilchards, Squid, Bluebait, Pipis. Many fishos find the following lures works well at Lang Lang Beach: Metal Blades and Soft Plastic Shad and Minnow Patterns.
Some of the Accommodation around Lang Lang Beach includes: Lang Land Caravan Park, Lang Lang Hotel. This location was first established in . You will find the following facilities at this location: Boat Ramp, Public Toilets and an undercover BBQ area..
This location is part of the Western Port Bay of Vic, Australia. This location is located within the Shire of Cardinia, Bass Coast Shire, South Gippsland Shire local government area. Lang Lang Beach is currently listed as open between: All Hours.
Best Fishing Times At Lang Lang Beach
Try the Incoming Tide, preferably at or after dusk and then keep fishing into the night.
The Lang Lang Boat Ramp
For those wanting to get away from the shore the boat ramp at Lang Lang Beach is: Single Lane, Concrete, prone to heavy sand build up.. You will find that for launching your boat the ramp surface is Sealed. You will find this boat ramp has 1 lanes.
Accommodation Options
Lang Land Caravan Park, Lang Lang Hotel
---
Lang Lang Beach Monthly Average Water Temperatures
Month
Avg
Min
Max
Rating
January
19.7°C
22.7°C
cold
February
20.2°C
22.8°C
warm
March
19.3°C
21.9°C
cold
April
17.4°C
19.5°C
cold
May
15.3°C
17°C
cold
June
13.7°C
15.5°C
cold
July
12.2°C
13.9°C
cold
August
11.8°C
13.4°C
cold
September
12.7°C
14.3°C
cold
October
14.4°C
16.6°C
cold
November
16.5°C
19.2°C
cold
December
18.2°C
21°C
cold
There's An Extreme Risk Of Hypothermia In The Water At Lang Lang Beach. Hypothermia Kills.
Hypothermia is a real risk when immersed in water. Even warmer climates with warmer waters carry an element of risk. On top of Hypothermia there are other climatic and weather risks including heat, water current, wind and wave action.
When the water temperature in the area around Lang Lang Beach is at or below 10C numbness sets in less than 5 minutes.

Hypothermia has already begun.

This means your ability to operate emergency devices, like mobile phones, radios and emergency beacons, is reduced or impossible. Your grip will be affected.

It becomes increasingly difficult to swim using arms and legs.

Within 30 to 60 minutes you become exhausted. Loss of consciousness follows.

Your expected survival time is between 1 and 3 hours depending on other environmental conditions.
---
Lang Lang Beach Monthly Average Air Temperatures
| Type | Jan | Feb | Mar | Apr | May | Jun | Jul | Aug | Sep | Oct | Nov | Dec |
| --- | --- | --- | --- | --- | --- | --- | --- | --- | --- | --- | --- | --- |
| Mean Max (°C) | 24.6 | 23.2 | 19.9 | 16.7 | 14.3 | 13.7 | 14.6 | 16.5 | 18.7 | 20.6 | 22.5 | 19.1 |
Lang Lang Beach Water Temperature Vs Air Temperature & The Risk Of Hypothermia.
As Lang Lang Beach is located in a region where air temperature drops down below 15 deg C the risk of rapid onset hypothermia is very real. Generally the temperature of water is a degree or so less than the average recent temperatures. In sub tropical areas this means that water temperature can be below 10 degrees and up to 20 degrees C.
Of course there are other factors in play here, including water depth (shallow fast running streams vs slow moving deeper rivers) and from where the water is being fed.
---
Location Information Details
| Info | Details |
| --- | --- |
| Name | Lang Lang Beach |
| Lat/Long | -38.309198,145.5011123 |
| Elevation | 2m above sea level. |
| Address | Foreshore Rd, Lang Lang |
| Nearest Capital | Melbourne, 92.6km aprox distance. |
| Time To Drive | 01:17:00 minutes |
| State | Vic |
| Post Code | 3984 |
| Fishing Kind | Saltwater |
| Fish Species | Gummy Sharks, Flathead, Whiting, Elephant Fish, Salmon |
| Suggested Bait | Pilchards, Squid, Bluebait, Pipis |
| Suggested Lures | Metal Blades and Soft Plastic Shad and Minnow Patterns |
| Best Times | Try the Incoming Tide, preferably at or after dusk and then keep fishing into the night. |