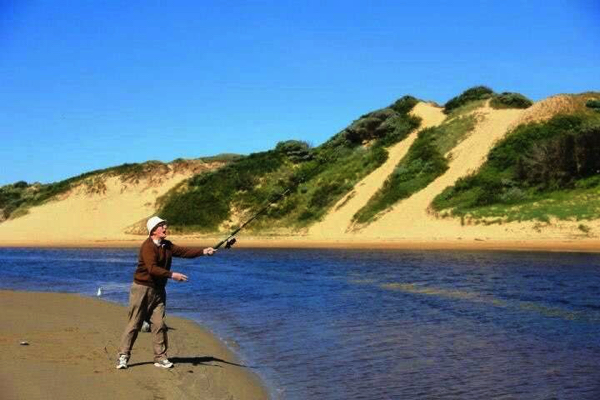 The Powlett River Estuary, five minutes from the township of Kilcunda, is often blocked to the sea. Causing it to form a wide, shallow lake.
The estuary, however, is fishable.
Containing a variety of species. Including Mullet, Australian Salmon and even Bream.
Sitting on the sand dunes and casting out as far as you can often yield small Australian Salmon and at times some fair-sized bream.
Fish Species
Quick Info
Flathead
Platycephalus sp
But much more prevalent during warmer months..
Bait: Bluebait, Chicken Breast, Flathead Fillets, Mullet Fillets, Mussels, Pilchards, Pipis, Prawns, Sandworms, Squid Tentacles, Whitebait, Whiting Fillets
Australian Salmon
Arripis trutta
Common for schools to move through, chopping up the water before moving on. Can be common during cooler months.
Bait: Bluebait, Chicken Breast, Flathead Fillets, Mullet Fillets, Mussels, Pilchards, Pipis, Prawns, Sandworms, Squid Hoods, Squid Tentacles, Whitebait, Whiting Fillets
Whiting
Sp
Generic Name for a number of Whiting Species found in Australia.
Bait:
Mullet
Mugilidae sp
Can sometimes be the only game in town during cooler weather.
Bait: luebait, Chicken Breast, Earthworms, Mussels, Pilchards, Pipis, Prawns, Squid Tentacles
Southern Black Bream
Acanthopagrus butcheri
Can become less active during Winter. Activity picking up in late August. Active during warmer months.
Bait: Bluebait, Chicken Breast, Crabs, Earthworms, Mussels, Pilchards, Pipis, Prawns, Sandworms, Whitebait
Tailor
Pomatomus saltatrix
Common for schools to move through, chopping up the water before moving on. Can be common during cooler months.
Bait: Blubait,Pilchards,Sandworms,pipis,chicken,squid,whitebait, hard bodied lures, soft plastic lures.
Luderick
Girella tricuspidata
But much more prevalent during winter months..
Bait: Fresh Weed, Immitation Weed & Weed Flies
Leatherjacket
Oligoplites saurus
But much more prevalent during warmer months..
Bait: Bluebait, Chicken Breast, Flathead Fillets, Mullet Fillets, Mussels, Pilchards, Pipis, Prawns, Sandworms, Squid Tentacles, Whitebait, Whiting Fillets
Gummy Shark
Mustelus antarcticus
Larger species are caught in Port Phillip & Western Port during April to July. With the Peak Month considered too be May.
Bait: Flathead Fillets, Mullet Fillets, Pilchards, Squid, Squid Hoods, Squid Tentacles, Whiting Fillets