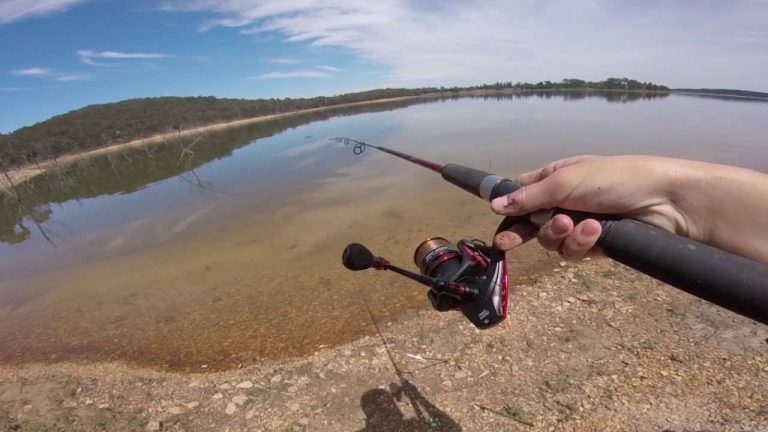 Sugarloaf Reservoir isn't too far from Melbourne, Victoria. Located in the outer North East near Christmas Hills.
In fact, it is quite near me, being only a 30-minute drive through a few outer north eastern suburbs and country roads.
Its water is pumped in by pipes from the Yarra River and from the Maroondah Reservoir by an aqueduct forming the lake.
I recently changed my fishability rating for this spot to 5 stars from my original 3.
Look. It's too good a spot and while fishing spots are limited the catch and release fishing is pretty darn good.
Sugarloaf Reservoir Fishing Overview
For starters, the trip out there is worth it. It has great views, and great picnic facilities and I highly recommend visiting.
You will, however, need to note park opening times. During Daylight Saving the park is open from 8:30 am till 7:00 pm. The rest of the year is open between 8:30 pm and 5:00 pm.
These times are enforced as the park entrance is locked via gates by Parks officers.
Testing of fish species, such as Redfin, has shown mercury levels to be higher than is safe for human consumption. I would love to link to the study but sadly the Department of Environment, Land Water & Planning have taken down the study data.
Keep in mind, at all times – you may not use fresh or live bait at Sugarloaf. Only artificial lures are permitted. You are also prohibited from using berley.
I am not certain if a smear of attractant on a lure would be considered "berley" or not. I'm assuming not. But cannot guarantee how the regulations will be interpreted by park staff regarding this.
My expectation is that this is similar to Gulp soft plastics and some of the other brands have built-in scent anyway. So discretion is probably key here when using attractants smeared on a lure.
You are also not allowed to clean fish in the lake, and return dead carp or other species. Nor are you permitted to wade into the lake.
The reason is this lake is a key part of Melbourne's drinking water.
Where Can You Fish At Sugarloaf Reservoir?
Government limitations on where you can fish make it more difficult than usual. You can Download Our Map And Ebook For Free.
You can only use lures. Bait and Berley are not permitted.
High levels of mercury in fish have been detected making them unsuitable for taking home and eating.
Overall catches consist of extremely small Redfin (aka English Perch.) Along with
European Carp. Trout is claimed, but I've never caught any there and am yet to hear of anybody recently who has.
The beauty of the place and the chance to use light tackle make it is worthwhile taking a visit with a fishing rod!
Excellent picnic, BBQ and Toilet Facilities along with well-maintained car parks.
Great bushwalking.
Boating & Kayaking is Not Permitted. The Sailing Club is exempted.
Dogs are not permitted.
To note, again, because it's important: Park opening times are 8:30 am to 7:30 pm during Daylight Saving. Otherwise, 8:30 am to 5:00 pm
Sugarloaf Fishing Tackle Recommendations
I recommend you use a light line.
Around 4lb to 6lb would be about right. Certainly no more than 10lb.
The lighter the better.
Select smaller lures. Soft plastic paddle tails can walk well.
However, my personal favourite lures for Redfin are spinners or "propeller" lures.
I've always found these hard-bodied lures to be dynamite with Redfin.
Flecks of red are always worthwhile as it's the colour that gets their attention.
The most probable reason for this is because the Redfin is a cannibal and happily eats smaller Redfin brethren.
Sugarloaf Reservoir Recommended Lure Technique
Try to vary your retrieve. Erratic. Feel free to raise and lower your rod tip.
Try slow retrieve then drop. Try quick spurts.
Cast beyond where you believe fish are likely to be if possible.
Then retrieve over the spot you're targeting.
This helps lessen the splash of the lure frightening your target.
Fish the structure where it exists. Branches, trees, reeds.
For carp, you can try some of the Gulp range of artificial dough-style baits. These are artificial and therefore should be completely fine to use. Just don't quote me on it!
You could even try some of the artificial worms – like the Gulp sandworms – that Gulp and other companies make.
With the likes of the sandworm choose a colour that's close to an Earthworm.
Jarvis Walker also makes a sandworm with a light pinky colour that could do – with an attractant added as they have none in the packet.
Try fishing these on the same kind of rig you'd used if they were real earthworms. A running sinker weighted enough to keep the bottom, for example. Though a paternoster may work too.
Remember – real earthworm moves in the water. So leave some of the ends off the hook and be sure to twitch your line regularly.
Even a super slow retrieve if you want to use a jig instead, for example, will sometimes work with carp.
What Fish Species Can You Catch When Fishing Sugarloaf Reservoir?
Fish Species
Quick Info
Carp
Cyprinus carpio

Bait: Earthworms, Corn, Chicken.
Rainbow Trout
Oncorhynchus mykiss

Bait: Earthworms, Soft Plastic Lures, Spinners, Spoons, Flys
Brown Trout
Salmo trutta

Bait: Earthworms, Soft Plastic Lures, Spinners, Spoons, Flys
Redfin
Perca fluviatilis
Also known as English Perch. Imported and considered invasive. Please do not return to water.
Bait: Earthworms, Chicken
Goldfish
Crassius Auratus

Bait:
Roach
Rutilus rutilus
All Year Round Seasonal Note: Invasive Imported Pest species. Do Not return to water.
Bait: Earthworms, Chicken
Tench
Tinca tinca
Invasive Imported Pest species. Do Not return to water.
Bait: Earthworms, Chicken
Short-head Lamprey
Mordacia morda

Bait:
Yabby
Cherax destructor
A native crustacean similar to the Crawdad found in the USA.
Bait: Lumps of meat, pet food.
Yellow Belly
Macquaria ambigua
Excellent native species that is reasonably prolific. Other common names include Golden Perch and Callop.
Bait: Earthworms, Scrubworms, Chicken Breast, Cheese.
---
Download Free Fishing Sugarloaf Reservoir Map
You can download this map based on my observations and experience of fishing at Sugarloaf Reservoir for free.
Take it with you. Share it with a friend!
I've marked in the species and the zones on Sugarloaf that will help you to make sure you are more likely to be in the right place for the right fish.
Sugarloaf Reservoir Fishing Hotspot Video
Sugarloaf Reservoir Fishing Review Summary
Because it is such a beautiful place to fish – and because it produces some pretty good Redfin, Trout and even some impressive Yellowbelly I've rated the fishability for Sugarloaf Reservoir a 5/5.
That's with a few, manageable, caveats.
You can't eat the fish safely here due to the high mercury and other heavy metals present in the fish.
You can't use bait here – you must use lures. Which isn't really a problem for most folks.
A bait substitute such as an earthworm like a Gulp Sandworm in a lighter colour, with judicious line twitching, can be a good bait substitute for bait soaking style of fishing.
Fishing is limited strictly to the signed spots on the lake ( map download here.)
The great thing about fishing Sugarloaf Reservoir, to me, is it's an easy drive and has some fantastic views. Both in the park and even the countryside on the way to and from.
Pros
Close To Most Melbourne Suburbs
Great Park Facilities
Family Friendly
Children's Playground
BBQ and Picnic Facilities
Bush Walking Tracks
Above Average Toilet Facilities
Plenty of Excellent Free Parking
Cons
No Kiosk or Shop (to me this is a Pro, not a Con)
Closed on some High Fire Danger Days during Summer
High Heavy Metal, Such as Mercury, Mean catch and release only (except Carp.) But is this Really a Bad Thing? I don't think it is
Fishing Only In Designated Areas
No Kayak Fishing. Given Sailing Club Boats are Allowed this makes little sense to most fisho's. But it is what it is