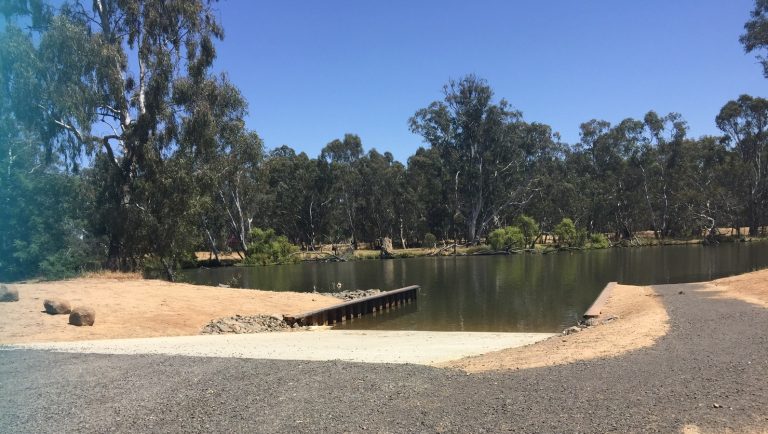 Lake Nagambie Boat Ramp is a free, public boat ramp.
The ramp allows you to launch into the Goulburn River.
From there it's a short ride down to Lake Nagambie.
Alternatively, you can navigate upstream for sightseeing and river fishing.
It's a good, easy-to-use concrete ramp. Finished in 2019.
One of the nicest freshwater river ramps I've used in Victoria in recent years.
Lake Nagambie Boat Ramp Overview
There's a fishing tournament held here, on Lake Nagambie, every year, around March, now. The Lake Nagambie boat ramp plays an integral role in this.
The ramp is certainly deep enough to launch a boat with a draft suitable for a lake or river. It's not a deep river or lake.
The Lake Nagambie boat ramp has a good incline. I launched here without any difficulty.
At the time it was a weekday outside of the peak holiday season.
I expect it would become quite busy over the summer holidays and Easter
Navigate to the Lake Or Head Upstream on the Goulburn River
Navigating downstream to the lake offers some great fishing opportunities within the river. With lots of overhanging trees and fallen timber structures. As well as reed beds.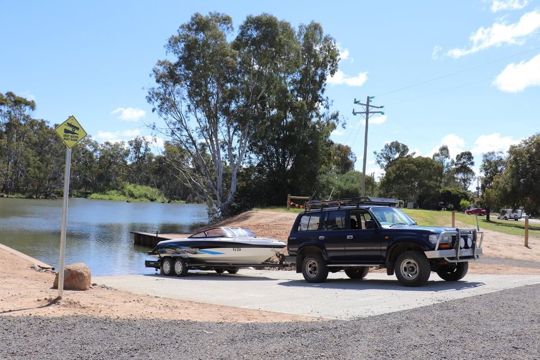 If your focus is on Murray Cod or Golden Perch then the structure in the river is a great opportunity. Many good-sized Cod and Perch are taken every year. With much of the river being difficult to access by land-based fishos.
If you're after Redfin head down to the lake. There's some trout around, too.
Of course – the terror of the waterways, European Carp, are present. With some huge specimens caught at times. While reportedly less prevalent than in the past they are still present in large numbers.
Fishing Lake Nagambie Boat Ramp
Fish species are surprisingly varied here – with both native and introduced species.
Portarlington Beach Target Fish Species
Fish Species
Quick Info
Redfin
Perca fluviatilis
Also known as English Perch. Imported and considered invasive. Please do not return to water.
Bait: Earthworms, Chicken
Yellow Belly
Macquaria ambigua
Excellent native species that is reasonably prolific. Other common names include Golden Perch and Callop.
Bait: Earthworms, Scrubworms, Chicken Breast, Cheese.
Carp
Cyprinus carpio

Bait: Earthworms, Corn, Chicken.
Accommodation & Facilities Near Lake Nagambie Boat Ramp
The area is well serviced with accommodation with the Caravan Park being adjacent to the boat ramp. The caravan has its own private boat ramp, too. As well as an informal ramp if you want to heave your tinny off the trailer and slide it into the lake. Not as hard as it sounds.
Within and nearby the township of Nagambie there are a few other caravan parks. As well as a large number of motels and hotels.
There's a supermarket for supplies. As well as some great local eating places and takeaways.
There are also several places you can buy bait and tackle. Year-round boat storage facilities and some great family facilities for BBQ and picnics.
A visit to the excellent vineyards locally makes Nagambie a perfect holiday destination. One that's very close to Melbourne – just a little over an hour and a half via the Hume Freeway – then the Goulburn Valley Freeway.
---
Lake Nagambie Boat Ramp Review Summary
This is an excellent boat ramp. Amongst the best freshwater river boat ramps in Victoria in my opinion.
The local community have certainly earned the right to feel proud of it.
When I visited there were very few people around – so very few boats.
So launching was simple. Fast and easy.
I re-trailered the boat in the Caravan Park boat ramp. However, it would have been a no-brainer to re-trailer the boat using the Lake Nagambie Boat Ramp via the river instead.
The river is navigable upstream for some great fishing – and winery sightseeing.
Target Murray Cod and Yellowbelly in the structure.
You can easily navigate down and out into Lake Nagambie. Where there is additional fishing for Murray Cod, Yellowbelly, some Redfin and the usual ugly, rod-bending and noxious European Carp.
Pros
Modern, clean and well-designed concrete boat ramp.
A quality freshwater ramp an hour and a half from Melbourne.
A simple docking area is provided for post-launch.
Cons
No boat or fish cleaning facilities. However, you probably don't really need either here being freshwater
Parking is good overall – but a little tight in peak season.
The nearest toilets are in the caravan park – which is private. So you have to go back to town for this.