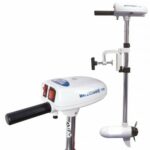 The Watersnake T24 Kayak Electric Motor is certainly affordable. Well constructed and powerful enough for most kayaks.
I have previously reviewed the Watersnake Kayak Motor Mount which pairs with this motor.
While I find it to be a good product it is missing a feature that prevents me from rating it a full 5 out of 5 stars.
That feature is the lack of throttle control on the tiller to reduce/increase thrust.
The switches for speed and reverse settings are not adequate in my opinion. For several important reasons.
Let's take a close look.
---
Table Of Contents
---
Kayak Electric Motor Power Is Perfect For A Small Kayak Or Dinghy
The thing with pounds of thrust is not to confuse them with horse power. The two are not interchangeable.
Adding more pound of thrust doesn't equate directly to going faster.
So the Watersnake T24 Kayak Electric Motor isn't going to propel you any slower through the water than a 32-pound motor.
The top speed, on a kayak around 10 to 12feet, in my tests was around 5 knots. At full speed, you might get up to 7 knots with the current and wind in your favour.
I found this speed to be great for getting me from point A to point B.
In fact – it feels down right nippy, compared to paddling!
However, for slow trolling on a kayak it is much too quick. Even on the slowest setting.
In a small tinny (a little over 12foot) the trolling speed was fine. So this is about weight. As one might expect.
Reaching Behind To Turn On/Off A Kayak Electric Motor Is Not A Great Feature
On a kayak turning around to switch the T24 Watersnake Kayak Electric Motor on and off is a real pain in the butt.
This is where a throttle on the tiller would be an excellent addition to this model – and it's little brother the T18.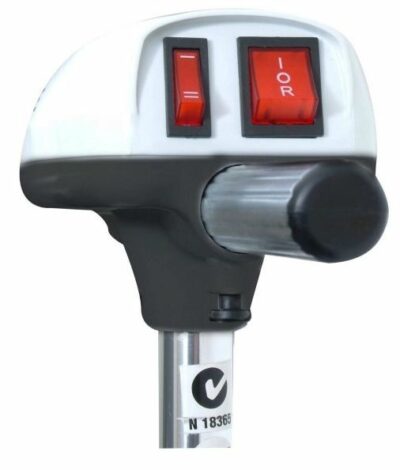 Reaching behind to the switches tends to destabilise a small kayak. Not a problem in a tinny.
On a kayak you have to twist and reach behind. I found this awkward and makes the yak tippy.
Also, the addition of a throttle would help control power consumption and speed. The two speed switches make it an all or nothing proposition.
Being able to slow down using a throttle would make trolling in a kayak viable.
This is my single biggest complaint with this model Watersnake Electric Trolling Motor. The models bigger brothers staring with the 34 lb model have the throttle on the tiller handle.
Essentially this is a grip, much like that on a motorcycle or outboard motor, that you twist to speed up or slow down.
Watersnake Kayak Electric Motor T24 Battery Consumption\
An electric trolling motor requires a deep cycle battery.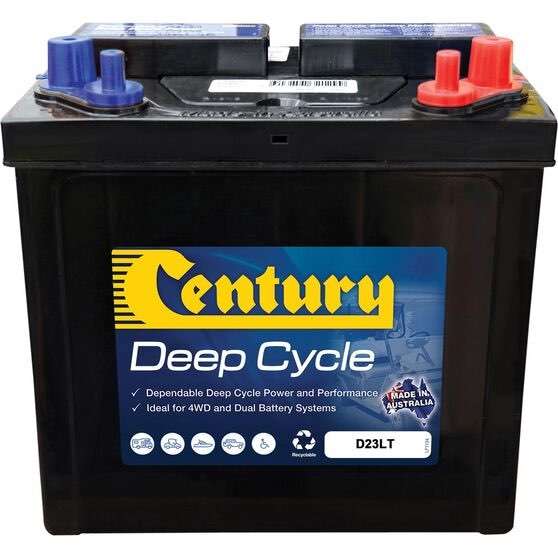 A regular car or boat cranking battery isn't going to cut it. You'll drain the battery fast – and shorten the battery life drastically.
On a 60 a/h battery I found I got 2 and a half hours no problems with the Watersnake T24 Trolling Motor.
As this has been the maximum I've needed to run the motor I've not hit max time. But I suspect it is around 3 hours at high speed.
It's important not to drain deep cycle batteries below 25%. So use this as a rough guide.
A 60 a/h battery is heavy on a kayak. Mine ways a tad over 17kg (37 lbs). Which is pretty heavy. A lithium battery of the same power ways less than 8kg (17 lbs).
Lithium is a great battery for the purpose. But the cost is still pretty prohibitive. Though certainly a lot less than boaties spend on even a cheap 6 h/p outboard motor!
On the plus side a Lithium battery will charge faster and provides full power right up until depletion. Led Acid, AGL etc batteries cannot do this.
So I really can't fault the battery life here. A bigger battery might get last you longer. A smaller battery, say 36 a/h reportedly gets some people an hour and a half. Which may be all you need. The lighter weight is attractive.
T24 Watersnake Kayak Electric Motor Two Blade Plastic Propellor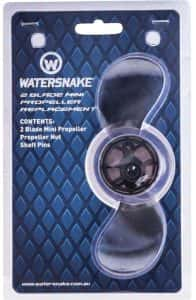 The Watersnake Kayak Electric Motor T24 comes with a twin blade plastic propellor.
Look.
It's reasonably durable – but can be broken. Definitely carry a spare propellor with you!
Given the nature of an electric trolling motor. The amp usage would be too much if aluminium or other heavier materials were used for the propeller.
So I can't fault them on this.
It works well. I doubt it would be any more efficient with three blades in this trolling motor size range. Indeed it could make it less so.
Spare blades are around $20. Definitely worth keeping a spare in your toolbox or tackle-box.
So Is This Kayak Electric Motor Any Good?
This Kayak Electric Motor is an excellent piece of equipment. The engineering is first-rate. I can compare this directly to cheap trolling motors and there honestly is no comparison. The quality is definitely there.
As far as dearer trolling motors are concerned I have not tried them. So I can't say if some other brands are superior at the same thrust range.
The fact that it is saltwater rated is great if you wish to use it in estuaries, bays or inlets.
I have no problem with recommending the Watersnake Kayak Electric Motor T24 for use in Kayaks or small boats like a tinny less than 13 feet long.
My only complaint is the lack of a throttle on the tiller handle. With that – even if it costs a little more as a result – this motor would be perfect.
This throttle issue bothered me so much – and this is a personal thing – I upgraded to the Watersnake Venom 34 lb thrust. This is significantly dearer – and a little heavier – however it does give me the 5 speed forward/3 speed reverse tiller throttle. I find that model suits my needs.
Kayak Electric Motor Review Conclusion & Product Rating
Pros
Lightweight and well balanced for kayak usage
Lightweight in terms of weight of motor and fittings
Easy to steer
Simple installation.
Easy to Raise and tilt
2 months of salt and freshwater usage (I wash down my gear after use) saw no corrosion on fittings.
Cons
No throttle on tiller handle. This means you have to twist and reach behind to increase.decrease speed & switch on/off.
The propeller blades are plastic. They break easily on snags. *Make sure you carry a spare prop!
Adding a voltage regulator helps reduce battery consumption. * There's videos on Youtube on how to add this,
Not fitted with a safety cut-off lanyard. So if you fall off your kayak can continue on without you. There's videos on Youtube on how to add this.
Summary Very well made. Well finished and well designed.
I have used mine many times over the last couple of years. Including some saltwater use. Not one of the components on the unit has corroded.
My only real complaint is the lack of a throttle on the tiller.
Adding this – even if it meant an increase in the price – would drastically improve this motor.
I can say this confidently because I also use the Watersnake Venom SXW 34lb motor. The addition on that model of the tiller speed/forward and reverse control is a far superior usability experience than the switches on the T18 and of course the T24 model reviewed here.
Of course, the Venom SXW 34lb model is considerably heavier than the T24 and may not be suitable for smaller kayaks 10ft and under.
My Rating: 4 out of 5
Price at time of Review$149.00AUD
Available From Fishing Tackle Shop