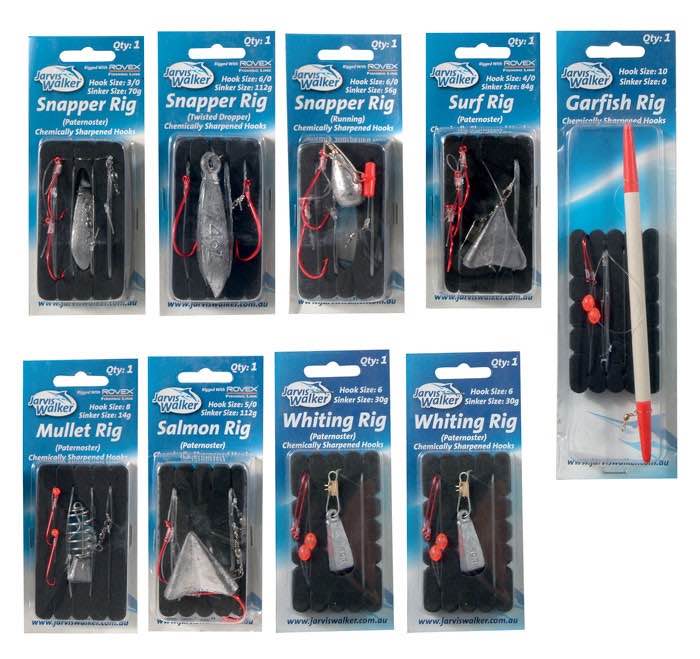 Pre Made Rigs are a product I use all the time.
They are that cool!
While I use other brands occasionally, like the Black Magic Pre Tied Rig range, I find the Jarvis Walker Pre Made Fishing Rigs to be a perfect, inexpensive solution.
I say inexpensive. It's true tying rigs yourself is generally cheaper than buying a pre made rig.
However, as a programmer, I learned decades ago that reinventing the wheel often returns the lowest value on your time.
You didn't think programmers write all the code every time we write software, did you?
We buy libraries of "code" and "widgets" and all kinds of stuff. So we can focus on the task our software is aiming to achieve.
Making us more productive and reducing errors and complexity.I'm pretty sure tradesmen and other professionals can relate to this, with their own tools of the trade, too.
Pre Made rigs, to me, are a better solution for exactly the same reasons. What's more, in many cases, they are better tied than I'm likely to tie myself.
---
Table Of Contents
---
Why Pre Made (AKA Pre Tied) Rigs Make Sense
You can turn up to your fishing spot
Choose a rig for the species you're targetting
Attach the rig to the mainline
Add bait or even a lure
You're ready to fish
No need to fiddle with a knot for each part of the rig. (A bigger deal on paternoster style rigs!)
Plus, no guessing on hook sizes with pre made rigs when it comes to species targeting. So they are very newbie friendly.
No messing with leaders. It's all there. One knot to attach the rig to your mainline.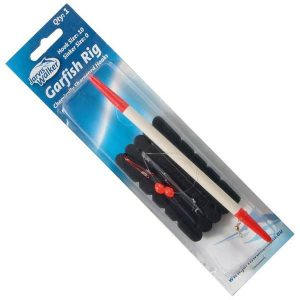 It's also great that with a pre made rig you can use a snap swivel on your main line to change out rigs if you wish before you leave home. That means zero knots when you're out fishing!
There's actually two kinds of pre made rigs quality levels available on the market made by Jarvis Walker. The cheaper version comes without the foam block that holds the rig together. You can find it in stores like K-Mart.
The cheaper version doesn't seem to be tied as well and seems to twist more in my experience. I'm talking about the slightly dearer version in this review. I've found it to be a better value for money.
The price difference is around a dollar or so. In my opinion, it's an extra dollar well spent. Especially if it means fewer line twists!
---
I Keep A Variety Of Pre Made Rigs For Different Species On Hand
As a rule, I keep a variety of Jarvis Walker Pre Fishing made rigs in my tackle box.
There are versions for each fish species. Snapper, flathead, bream, mullet, garfish, surf rigs etc.
Compared to rigs I tie myself I find the pre made rigs are much less likely to tangle and twist. Plus the little foam block they come on in the packet and they can be reused after use (just wash them off before putting away.)
Just wind the leader back onto the foam block. Snuggle the hooks in – and boom!
I love that. I mean, next time I need the rig its ready – no tangles – to attach to my line.
That's really cool!
---
Pimp Up Your Jarvis Walker Pre Made Rigs
Of course, more expensive pre made rigs often come with a lot of sexy looking "extras." Like flashing, skirts, glitter etc.
These increase their appeal to many fish species, like snapper and whiting.
So I usually add some of these myself. Certainly, some of the Jarvis Walker pre-tied rigs come with glow beads attached. But I often go a step further and add a few red and green feathers myself.
To do this I simply hold the skirt (real feathers or artificial) on the hooks while winding on some cotton. Lime green or red is great. Tie off the cotton with a small knot. Then I use a little bit of superglue or epoxy to create a seal over the cotton to hold it all in place.
Works and presents extremely well.
Where no beads are supplied I push them over the hooks and up onto the leader of the pre made rig. Just above the hook eye. Best to do this before adding any skirts – of course!
Jarvis Walker also makes an advanced range called The Ultimate Edition Flasher Paternoster Rigs.
I've not actually tried these and will try to review them in the coming months.
Basically, these come with the skirting etc ready to go. They sell at around twice the price of the standard rigs being reviewed here. Competing with the dearer Black Magic and Mustad rigs.
Definitely Keep Some In Your Tackle Box!
I recommend keeping some pre made rigs on hand in your tackle box because I have found them invaluable. For the most part, I rarely tie saltwater rigs when using bait now. I just reach for one of these.
I also soak soft plastics on the hooks of these rigs. The Gulp Sandworms, for example, works really well, as do the Gulp Shrimp. Fish the lure and rig just like you would bait. Don't forget to smear on some attractant!
At under five bucks each for the likes of the Jarvis Walker pre made rigs they're often less than half the price of some other more expensive brands.
I even use the saltwater rigs in freshwater at times. Where the hook size and sinker makes sense to do so.
There are other competing brands of pre made rigs that I've tried at this price point. I've found some are better than others.
I've noticed lately that some of these brands have started improving their rigs to directly compete with these ones. Including the addition of the foam block etc. Some of the big box stores like BCF and Anaconda sell those.
I've tried several and still find I come back to these ones. The exception being the break-off rigs for gummies made by Sure Catch. Those are hard to beat and not available in the Jarvis Walker range. This particular rig is handy for larger native freshwater species like Murray Cod, too.
Though a Snapper or Whiting rig, from the Jarvis Walker range, reviewed here can be just as effective.
---
Jarvis Walker Pre Made Rigs Review Conclusion & Product Rating
Pros
Cost-Effective
Good variety of rigs for specific species
Rigs can be utilised on more than one species
Can be reused many times (wash clean after use)
Cons
More expensive than tying your own
Not all rig kinds available. Eg: No break-off rigs for Gummy Shark fishing
Very occasionally you get a rig not tied properly (rare)
Summary
This is a product I use all the time. Because they're quick, easy and tangle-free.
While I use other brands occasionally, like the Black Magic Pre Tied Rig range, I find the Jarvis Walker Pre Tied Fishing Rigs to be a perfect, inexpensive solution.
I say inexpensive. It's true tying rigs yourself is generally cheaper. However, as a programmer, I learned decades ago that reinventing the wheel often gives the lowest return on investment of my time.
Price at time of Review: $4.95AUD
Available From: Fishing Tackle Shop